Here we are in the middle of fall and a week from Thanksgiving, a time of reflection and gratitude. Each year, I can't help but hold strong gratitude to the many buyers and sellers that entrust us to help them with major life milestones.
I hope you enjoy our new and improved newsletter! Feel free to pass it along to anyone who would appreciate the information. One addition is Coldwell Banker's new Move Meter — use it to compare two cities against each other on everything from the housing market, employment, economy, and lifestyle. The Move Meter is great for folks moving long distances or considering a few possible areas.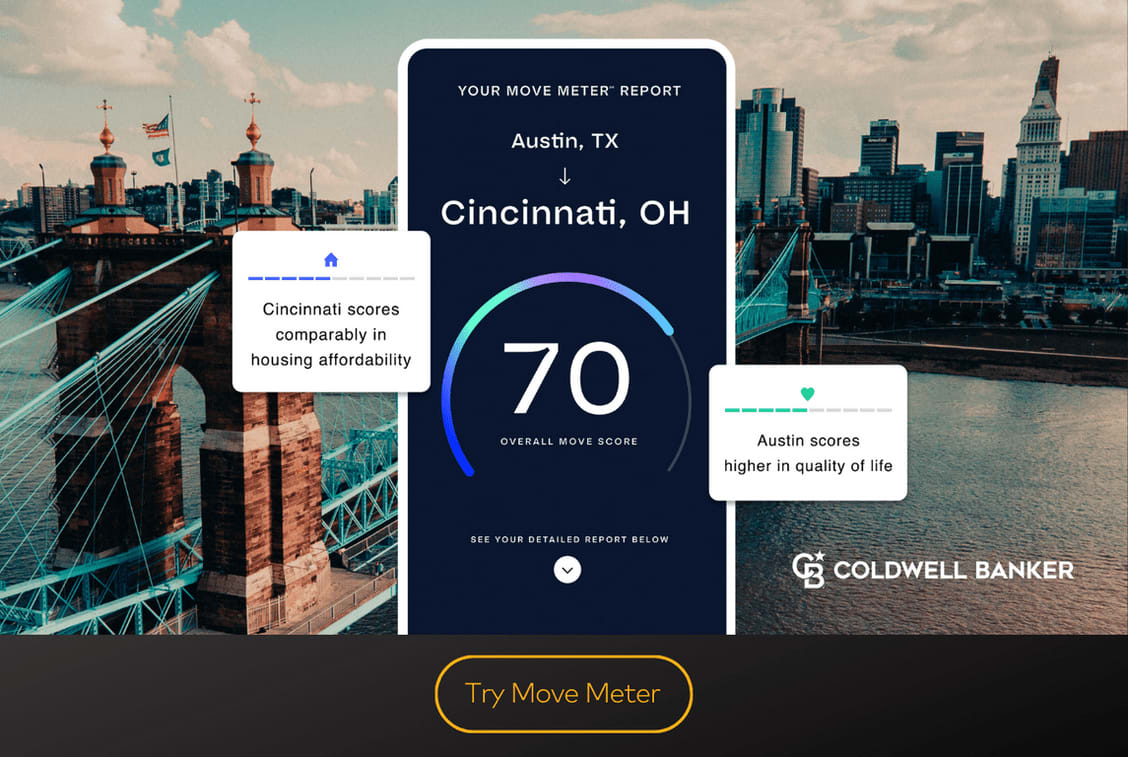 If you know someone in a different area looking for an exceptional real estate agent, please let me know, as I can help connect them. I'm a member of various organizations and have personal connections in many other cities.
Save the Date!
Before I get into housing market stats, I'd like to share a client appreciation event we're hosting in February — SAVE THE DATE! It's been 3 years since we've held a client appreciation event so we're super excited for this one. Come see our new office space and enjoy drinks, snacks, and special treats on February 10th, 5–7PM.

We're well into the year's final quarter and clearly in a more traditional housing market, with inventory levels up two-fold (2.2 months). While this is a sharp increase from last year, it's akin to what we saw in January 2019 and much of 2018. Sellers are still doing well when they prepare, present and price their homes correctly. Median prices are up about 3.5% from the previous year, but this figure is slightly lower than last month. Interest rate increases are the main culprit.
To combat these rate increases, many buyers are securing lower interest rates via buy-downs and/or obtaining adjustable-rate mortgages with lower rates, with the expectation of refinancing in the next year or two. Experts predict interest rates will be lower by the end of next year, indicating that in 2024 rates will likely land around 5–6%, a healthy range for the economy.
There are effective and safe ways of bringing monthly payments down. Relying on a broker's strong negotiation skills is paramount in this market. Most buyers focus mainly on monthly payments instead of price, so knowing all available financing options is key to taking advantage of the current market. With more choices and the ability to take time deciding on the best fit, buyers can make informed decisions about the properties they consider.
I'm hearing from many buyers that they anticipate prices to dramatically decrease, so they want to wait for the market to bounce back. While experts predict prices to come down slightly, price decreases will likely only be in the single digits. Many buyers are sitting on the sidelines, waiting for the right moment to jump. As rates begin to trend downward, there will be an increase of pending sales. Currently, buyers have more leverage to obtain seller credits, 2/1 buy-downs, and other favorable terms that will result in lower payments. Once more buyers jump back in the market, competition for homes will increase, and buyer leverage will be sharply reduced.
Interest rates came down last week! For the first time in a while, we saw a rate reduction, in response to the CPI report finally showing inflation stabilizing. The fed rate increases are finally starting to show their effectiveness, and savvy buyers are watching this. Last weekend, our buyers secured a home that had just hit the market earlier in the week. They had to compete against two others but did not escalate in price. They were able to secure the home for list price, which was the right price for the current market.
Market stats:
There were 7,260 new listings added in the NWMLS last month, a decrease of 21% from last year.

6,464 listings went under contract and about the same amount (6,464) properties closed, which is 35-40% lower than last year.

Median prices are down 10% from their spring peak but 3.5% higher than a year ago.

In King County, prices 5% higher than last year; Snohomish County is up 4%.

Pending sales are down 39% from last year. Last month they were down 30% from the previous year.
Sellers are still faring well when they're laser-focused on price and presentation. In this market, it's crucial that an experienced broker position and market the home effectively. We're fortunate to be working with a handful of clients who are recognizing the advantages of this market, and we'd like to help more. If you or someone you know would like to learn more about the current market, don't hesitate to reach out. Each situation is different and we're here to help. I'm just a call/text/email away. -Phillip