Though a couple weeks of summer remain, the autumn energy is certainly here. Most people are back to work and school, and summer vacations are behind us. I personally couldn't be happier to have my kids back in school and back into a routine! I feel for the parents of school-aged kids in the Seattle School District. Hopefully the teachers and district will find a common ground and school returns to session quickly.
Before I go on to share about market stats, I'd like to ask those past clients that haven't written an online review yet to please post a short testimonial of your experience working together. Online reviews are extremely important to our business. We are grateful for the support! Online reviews can be posted on our Google page, Realtor.com, Zillow, LinkedIn and FB. I'm happy to share direct links and instructions – just shoot me a message. Thank you in advance!
On to the real estate market. The numbers from last month show improvement over July, though we have another sharp increase of inventory levels. However, we easily forget that August is usually a slower month in our region, as people tend to be preoccupied with summer vacations and travel. Inventory in our region is double that of last year, but the number of homes for sale is still 14% lower than in August 2019. This is important perspective to consider. Fewer sales were reported last month compared to a year ago, but pending sales and closed sales are higher than July's figure, which is encouraging news. There will likely be more inventory as we transition into fall, which means buyers will have more options and therefore leverage, and sellers will need to be especially diligent with realistic pricing and stellar presentation.
Here are some market stats:
Inventory in the NWMLS region has doubled compared to a year ago and is 3-times the amount at the end of March.
Pending sales were down 22% from a year ago but are 9% greater than July. In King County sales were down 30% from last year and up 7% from July.
Median price of single-family homes in King County have increased 6% year-over-year and are 4% lower than July.
In Snohomish County prices were up 4% from last year and down 7% from July.
North King County saw the greatest increase year-over-year of 11.5% followed by Seattle at 6% and the Eastside at 4%.
Condo prices in King County are up 6% from this time last year.
Average days on market (DOM) in King and Snohomish Counties combined was 21 days, up from 14 days in July, and up from 13 days last year.
After a steady decline of the absorption rate from March 2022, we're finally starting to see it climb from July to August. (Absorption rate is the average number of sales per month divided by the total number of available properties.) There are several indicators of buyer confidence coming back, but higher interest rates and inventory levels will likely keep prices from rising in the short term. An interesting observation however is that for the very well-priced homes with broad buyer appeal, we're still seeing multiple offers, so for those buyers trying to take advantage of the market it's still imperative to be 100% prepared and set up for success. Interest rates have stabilized and are hovering around 5% for jumbo loans and just under 6% for conforming loans. Don't hesitate to reach out with any questions and as always, if you're considering a move, lets chat early so we can put an effective plan into place. Don't hesitate to reach out. I'm just a call/text/email away.
-Phillip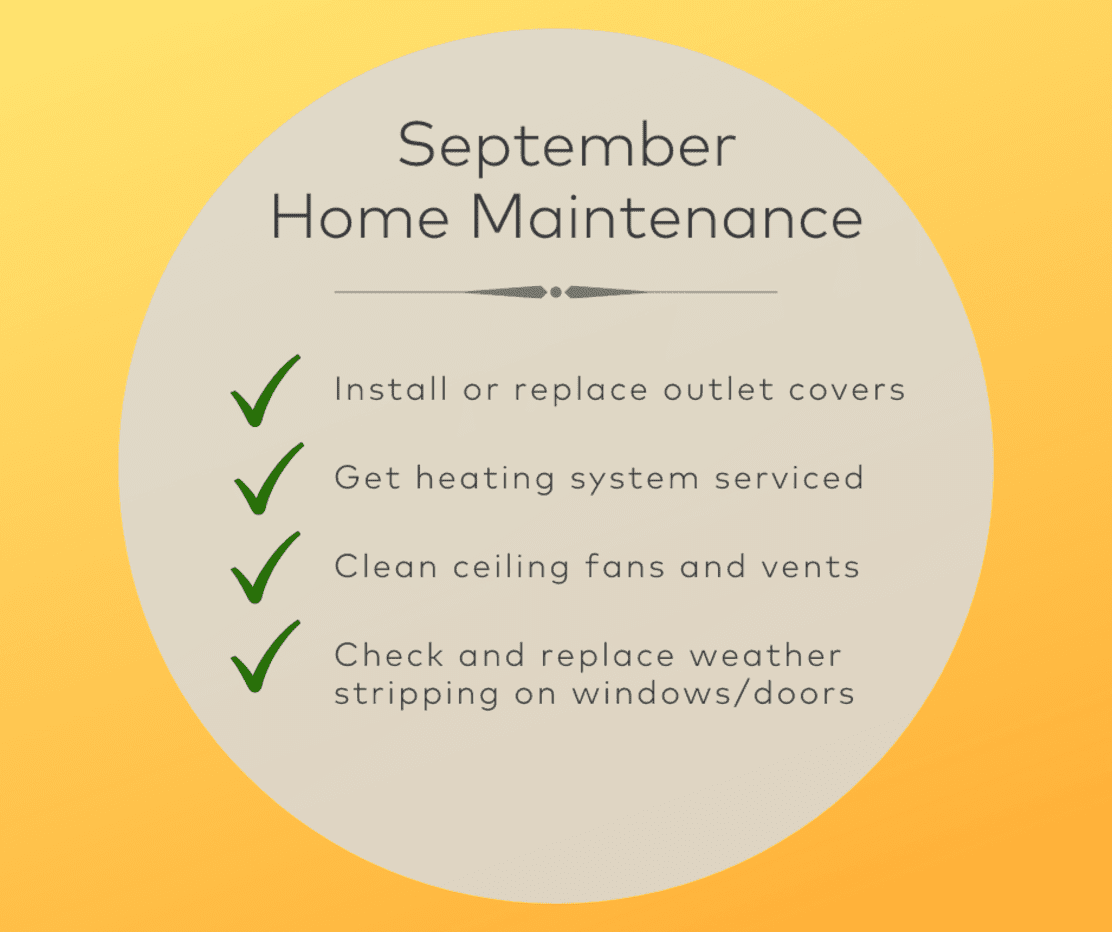 September Home Maintenance
______________________________
Our monthly must-do's to keep your home and outdoor living spaces safe and enjoyable throughout the year.
Reach out if you need service provider recommendations and/or a more complete home maintenance checklist!